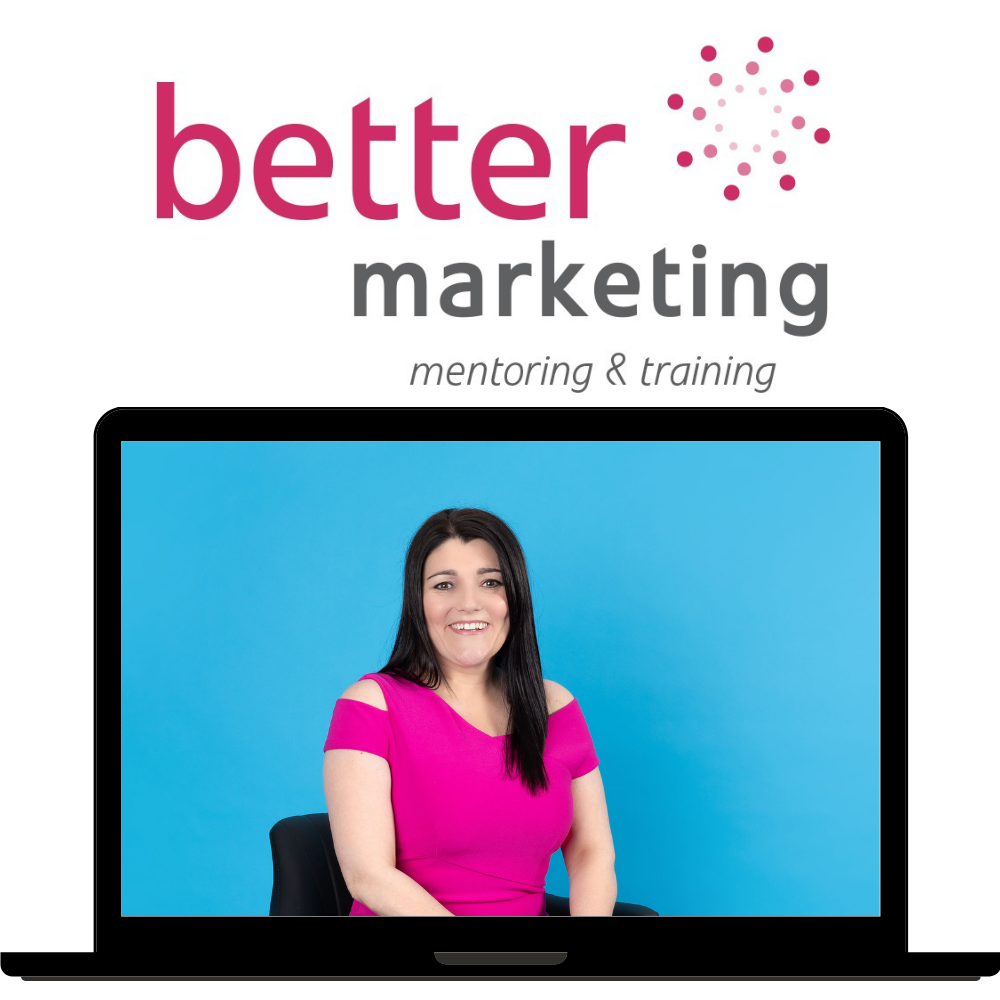 Better Marketing Online Mentoring
Better Marketing online mentoring is the way forward if you want to get your marketing on track and be part of the whole process.
I'm Tracy Heatley, and my approach, with my marketing mentoring service, is to work with you, rather than do it for you.  This way, you get to embrace my decades of experience and knowledge, which I'm happy to share with you during our one-to-one mentoring sessions. Plus it's much more cost effective than paying higher marketing consultancy fees. Marketing mentoring is perfect for small business owners!
The magic of marketing happens when you understand your market, know your customers and you adapt to suit what is required. My marketing mentoring will help you to get the foundations right, so that you're building the right marketing messages, to the right people, in the right places, at the right time.
I'll help you avoid a scatter gun approach to marketing and make sure that you're on track to create impact and get results.  Whether you're on a shoestring marketing budget or you've got massive marketing spend, there's ways and means to get better marketing results.
When you're ready to have a much needed critical friend and marketing mentor along for the journey, get in touch and let's work out the best fit for you and your business.  Your investment in the Better Marketing Mentoring packages are completely transparent, as shown at the bottom of this page.
There's no one size fits all approach, because your business isn't the same as another and neither are you. Together, we will find the best marketing solutions and approaches for you.
Who Is Better Marketing Mentoring For?
Better Marketing is for you if:
You know you need marketing, but you don't know where to start.
You've already wasted valuable time and money on marketing that doesn't work, and you want that to stop now.
You're just not quite sure what types of marketing are right for you and your business.
As you think about marketing, you feel overwhelmed and you need some support.
You want to bounce ideas off a professional with no ulterior motives or additional marketing services to upsell.
Perhaps you want a trusted and safe place to talk about your marketing planning without fear of judgement.
You've got a new product that you want to launch, but you're not quite sure how to do it.
You want to diversify or enter new markets and need guidance on the best route to market.
You don't know how to differentiate from your competition.
You're thinking about introducing new prices, but you're uncertain about if and how to do it.
You want a greater return on investment and better results.
Getting your marketing right from the start, so that you avoid the pitfalls of costly ineffective marketing, is important to you.
You just don't want to go it alone or you need some marketing motivation and accountability.
The more your read and hear about marketing, the more confusing it seems.
You're an employee responsible for marketing, but you have no Marketing Director developing a strategy for you.
You have employees or outsourced professionals doing marketing with no direction, guidance or plan.
Whatever your reason for wanting Better Marketing, I'm here to help you!
What To Expect With Better Marketing Mentoring
When it comes to what to expect with Better Marketing Mentoring, it's all about you getting clarity, direction, focus, motivation, action and results.
It's a good idea to book your taster session, so that you can experience my approach for yourself.  This way, you get to know me more and I get to add value to your marketing.
My approach is to get to know you, your aspirations and your business objectives.  I like to focus on the positives to draw out strengths, possibilities and potential business opportunities.  This combined with a realistic approach of establishing challenges and potential threats, helps me to understand your business, so that as we journey through your marketing map, we do so as team.
If I don't understand your business, I can't help you.  It's that simple!   That's why honesty, openness and transparency are crucial.  If you're not prepared to be frank and genuine with me, then I'm not the Chartered Marketer for you!
Choosing The Right Marketing Mentoring Package
It may be that you know me already and you're ready to book a series of sessions, which is great.
You may have heard about my reputation and you trust that you will get value for money and enormous benefits.
Perhaps you've seen me on social media.
Or, you may have just found out about my services and how I can help.
Either way, my advice is to book your taster session. You'll be amazed what we can fit into forty minutes.  This session is not about me selling my services to you.  The taster session is about us getting to know each other better, so that we can both establish if we're the right fit for you to continue with Better Marketing Mentoring.  It's to establish if we each have the right attitude and approach to work together?
Most importantly, the taster session is about me adding as much value as I can in the time that we have together.
Remember, you're not paying for my time, you're paying for my decades of experience, proven success, bountiful knowledge and well earned wisdom!
When you're confident that I can help you and you're ready to invest in your business, please go ahead and book any of the Better Marketing Mentoring packages that most suit you.
If you have any questions that I've not already answered, please go ahead and get in touch and I'll be happy to help.
Taster Session
£85
(40 minutes)
Single Sessions
£155/hour
The Better Marketing Mentoring Triple Stack
The Better Marketing Mentoring Triple Stack is suitable for you if you've got a specific marketing dilemma or you just want help getting on track.
We will do a deep dive into your business to get to the route cause of any challenges and establish the best marketing direction for you.
Sessions can be either:
Three one hour sessions.
One hour session followed by a two hour session.
Two hour session followed by a one hour session.
Single three hour session.
£434
(includes 3 hours of marketing mentoring)
Five And Thrive Better Marketing Mentoring Package
Five  And Thrive Marketing Mentoring will give us enough time to really get to grips with developing your marketing strategy and how to start your marketing planning.
After performing a deep dive into your business, we will focus on everything that may impact your marketing success and develop a marketing strategy that will help you and your business to thrive in ways you couldn't have imagined before.
There will be tasks for you to do that will have a massive impact on your marketing success, but don't worry, I'll be there to guide you through it.
The aim with the Five and Thrive package is to get you to the stage where you're good to go with your marketing planning.
If you already have a marketing strategy, we will use our time together to develop your marketing mix, so you know exactly what marketing approaches are right for your business.
Sessions can be:
An hour session followed by two hourly sessions.
A two hour and three hour session.
Five one hour sessions.
A four hour half day session followed by a one hour follow-up.
£700
(includes 5 hours of marketing mentoring)
Better Marketing Ten Out Of Ten Mentoring Package
The Ten Out Of Ten Better Marketing Mentoring package is the ultimate in marketing strategy and planning. These ten hours is usually enough time to review your business, assess external forces that may impact your business, develop a suitable marketing strategy and marketing plan, including putting your marketing mix together.
If you already have a marketing strategy, then we can advance to the next level and use the time to boost your business with the marketing essentials that are right for your business.
We cram a lot into our time together and there will be tasks for you to do in between our session.  The results clients are getting is outstanding!
Sessions are usually split into:
One hour session followed by three hourly sessions.
Five two hourly sessions.
Please note that there may be some Government funding available for high growth UK businesses, based in Lancashire.  If you think that you may qualify for this, please get in touch before booking this package, so that I can review your suitability and establish the best way to help you.
Better Marketing No Brainer Retainer
Please be aware that I only work with a very limited number of people on my Better Marketing No Brainer Retainer.
I do not accept any retainer clients who haven't already used  the Better Marketing Mentoring services.  One, because some clients don't need to be on a retainer.  Two, I'm determined that you won't need me forever.  It's my intention to get you to the point that you don't need me anymore.  Three, I need to know, and you need to know, that we can work well together before we even think about a bespoke retainer package.
To be agreed subject to requirements and availability.  Contact Tracy Heatley to find out more
Hi, I'm Tracy! I have been a marketing expert for over twenty years and I'm here to share my marketing skills with you.