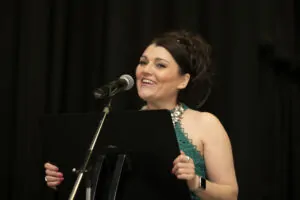 Events And Awards Ceremony Host
Being an events and awards ceremony host is something that  I, Tracy Heatley, absolutely love to do.
As an experienced public speaker, events host, ceremony MC, radio presenter and podcaster, it brings me great joy and satisfaction to create a buzz in the room.  There's a knack to keeping the audience engaged and ensuring that everyone has a great time!  Alongside, sticking to the event schedule and keeping everything running on time, of course.
I've hosted events and ceremonies online and in person, so I can easily adapt to your requirements.  I've also had the enormous pleasure of presenting awards, on numerous occasions, which has been both a highlight and privilege over the years!
I realise that all events and ceremonies are unique, so there isn't a 'one size fits all' approach. I'm very flexible in my approach, depending upon the nature of your event or ceremony.
If you have an event coming up over the next year or two, get in touch now, to find out if I'm the right event or ceremony host for you!
Whether you need an events or ceremony host for a day, a couple of days or you need an MC for just a few hours, I'm certain that I can help you.
Message me your details and we can take things from there, or feel free to give me a call for a chat if you prefer.
I look forward to finding out more about your upcoming event.