Taking a closer look at David Gould Opticians on Real Life Radio.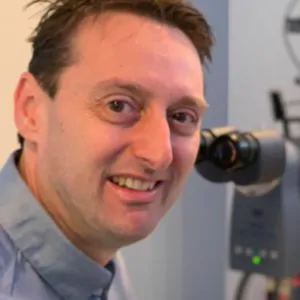 Enjoy this journey, as we take a look into the business mind of David Gould, from David Gould Opticians.
About David Gould Opticians

Based in Rossendale, David Gould Opticians is a family business, with two thriving practices in Haslingden and Rawtenstall.  Since 2003, the business has become one of East Lancashire's leading eye care providers, because of the outstanding service.   It is an optical hub for eye examinations, spectacles, frames, sunglasses and eye care products.
Pioneering Eye Care
I must stress that David Gould is far too humble to use words like pioneering, radical and ground-breaking.  However, after taking a closer look, David Gould Opticians is one of the most progressive eye care businesses that I know.   Both practices use the most current and innovative technologies .  David also partakes in revolutionary clinical trials.  Trials that will improve the lives of thousands, upon thousands, of adults and children.
Myopia Management
David Gould talks to Tracy about Myopia Management, which has been one of the most cutting-edge trials to help children.  In particularly, children who suffer from short-sightedness.  If you're a parent yourself, you'll know that there's nothing worse than watching a child suffer.  Whether you're a parent or not, you'll be fascinated to know how this works.

I'm not an optician and my knowledge is limited, but I'll do my best to describe how this works.  Myopia is commonly known as short-sightedness. Thanks to a successful clinical trial, by Coopervision, this can now be managed to slow the rate or progression.  With guidance, support and monitoring, children wear their specialist MiSight daily disposable contact lenses. These are specifically designed to slow short-sightedness progression in children. Essentially, it has been proven to slow the rate of progression by an average of 59%.
Orthokeratology may sound like witchcraft, but it's not.  It involves designing lenses that gently reshape your eyes while you sleep.  Therefore, eliminates short-sightedness while you're awake. The advanced vision correction technique slows down progressive myopia by between forty to fifty percent.
Business Challenges
We all face challenges in business.  This includes well established and successful businesses.  David talks openly about one of the fundamental challenges that many opticians face.  Did you know that most opticians make a loss on eye-tests?  No, most people don't! David shares more about his business model and discusses the flaws of eye tests being a loss leader.
Tracy's Thoughts
I may seem a tad biased, but this interview is very insightful.  I'm not biased, but I am proud!  I must say, it was rather strange interviewing 'my other half'. I did manage to remain impartial and objective, though.  Some aspects of business are very subjective, and it was interesting to discuss business topics 'on air' with David.
This is a must listen for anyone interested in optics.  Anyone who wants to  learn more about diverse business models will enjoy it.  Also, people who love to hear about business success stories.
As for me, I'll stick to networking, networking training, marketing and radio interviews!
Enjoy!
Very Best Wishes,
Tracy Heatley