This interview is all about financial rescue solutions for businesses.  Yes, there is help there!
About Gary Whitehead
After leaving Barclays, Gary Whitehead set up a commercial lending business.  A company that went from thriving to barely surviving, as  the 2008 financial crises hit the UK. This left his business in a precarious position.  Ultimately, this led to the formation of AFT Assist to help business owners with commercial debt resolution. Resolutions including dealing with personal guarantees with no insolvency implications!
AFT Assist
A large element of AFT Assist is about debt resolution, dealing with personal guarantees and giving business advice.  Essentially, eliminating or managing debts that may otherwise be out of control.
The company is a lifeline for businesses that are experiencing financial difficulties.  This includes dealing with personal guarantees for limited companies that have or are experiencing insolvency.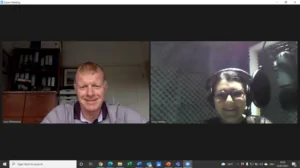 Interview Highlights
Interview highlights include guidance for businesses on beginning the debt resolutions process.  It provides a crutch for any business owner worried about having to pay out of commercial debt that has a personal guarantee.   Plus, there's an overview of AFT Assist, how it works and its pricing structure.  A pricing structure designed to make it worthwhile, affordable, workable and cost effective for clients.
Interview Takeaways
Key interview takeaways include the assurance that there is 'light at the end of the tunnel' for business owners.  This is the case no matter how bad, how long or what stage businesses are at.
Any business owner who is keeping financial stresses to themselves do have someone to turn to.  Gary has even provided us with his mobile number for you to contact him directly if you're business is in financial trouble.
Don't suffer alone! Do reach out and speak to someone about what you're experiencing, because nine times out of ten, commercial debts can be resolved.
What To Do Now
Here's what to do now if you're the owner of a business that is struggling financially.
Call Gary Whitehead directly on 07764167530 or  01772 644937
Email:  gary@aftassist.com
Find out more on the AFT Assist  website.
Tracy's Thoughts
I only met Gary Whitehead recently, and I didn't know much about his business before this interview.  However, I definitely get the impression that his focus is on what's right for his clients.
This seems like an excellent service!  I know other reputable business professionals who hold Gary and his services in high regard, so that provides me with trust.
There are likely to be many business owners unaware that these debt resolutions services exist, especially when it comes to personal guarantees.
I learned so much from Gary and I feel confident that he knows his stuff when it comes to commercial lending and financial resolution.
More About Tracy Heatley
To find out more about Tracy Heatley and her networking, networking and communications training, contact her right here.