Niel Cope talks People Matters, with Tracy Heatley's  Real Life Radio Mind Your Own Business show.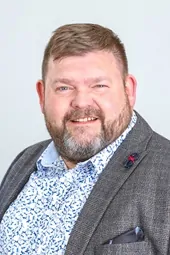 About Niel Cope
Tracy Heatley and Niel Cope go way back, so she loved having him as a guest on her radio show. Though they met when Niel first set up in business, ten years ago, she hadn't seen him for a while.   Quite recently, after a four year break, he's re-joined her Bolton BoB Club networking group, so they had lots of catching up to do.
Niel is a fun loving guy with a large family!  Yes, he and his wife/Co Director, Yvonne, have a brood of five children.  They've managed to launch and grow an award winning business, whilst remaining sane and raising their lovely children.  Niel will be the first to tell you that there's nothing like starting a new business, with young children to raise, to motivate you.   Clearly, his love for his family has been a massive driver for him to succeed, and succeed he has!
People Matters HR
People Matters HR is a Ramsbottom based Human Resources consultancy practice, with a knack of working with clients to help them grow.  The management and leadership element of HR, is something that Niel and his team are very passionate about.  We all know that HR is linked to compliance, legislation and contracts.  However, Niel and his team wanted to put the PEOPLE at the forefront of their HR services.
This small firm of eight have not only won some top industry specific awards over the years, they have recently celebrated their 10th business birthday!  This did not go unmissed as they celebrated by sponsoring various events and being proud of their massive achievements. The most recent award was the Breath HR Partner of the year award, which was reported across the local media, including the Bury Times.
People Matters HR continues to expand, so watch this space as they thrive even more!
Tracy's Thoughts
Tracy's thoughts are simple!  Whilst I've known Niel for many years, it was a delight having him on my Mind Your Own Business radio show and hearing about all that he's achieved.  I have to admit, it's nice to be networking with him again! His business may have grown, but his sense of humour hasn't changed.  Nor has his ability to remain humble, focused, forward thinking, whilst keeping his feet firmly on the ground.
You'll learn lots about how to make a HR Consultancy business survive in the early years, as well as business growth secrets. It's a must listen if you love a good old fashioned work hard and achieve lots business success story.
If I were to use three words to sum up this interview, I'd use humanistic, hilarious and humble!  Not a bad combination for a cracking radio interview, I'd say!
I hope you enjoy this Mind Your Own Business interview as much I enjoyed recording it for you.
Many thanks,
Very Best Wishes,