How Rod Hahlo puts a New Perspective On NLP is fascinating!
About Rod Hahlo
Find out more about Rod Hahlo right here.  After working for years in organisational development for the NHS, Rod discovered NLP and the rest is history.
New Perspective NLP was set up so that Rod could use his expertise to help other people.  Also, to train individuals who are interested in becoming NLP and hypnotherapy qualified themselves.
NLP stands for Neuro Linguistic Programming, and it really can transform your life.  As an NLP Master Practitioner and Trainer, Rod has all the NLP tools to help.  This, combined with years of organisational coaching and development, plus his hypnotherapy expertise, Rod has the full coaching and training toolkit.
One of Rod's services is helping people overcome phobias.  Hats off to Rod, as during the pandemic he helped people with a fear of needles, for free, so that they could get their vaccinations.   Subsequently, he was featured in the local media!
Rod Hahlo's Mind Your Own Business Interview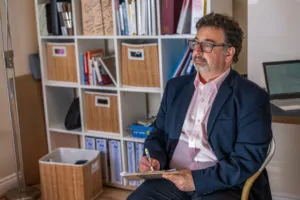 This Real Life Radio – Mind Your Own Business interview takes the journey of Rod's career and how he transitioned from employee to business owner.  We talk about the ups and downs of setting up a business.  The highs and low's of business challenges and how helping other people has transformed Rod's life.
The importance of loving what you do shines through.  This interview is revealing in terms of Rod's business, New Perspective NLP, and it provides a clear understanding of how NLP and hypnotherapy helps change lives for the better.
Tracy's Thoughts
As an NLP Master Practitioner myself, I know the power of NLP, and I have a full appreciation of Rod's ethics and desire to help other people.  Whilst I don't provide practitioner services, like Rod does, I do incorporate NLP into my training, but exclusively to boost business communications in relation to networking success. 
I've referred people to Rod, who have had phobias, and he's helped them overcome lifelong fears.
As I've been networking with Rod since 2019, I've gained total trust in his values, principles, knowledge, experience and know-how.  For this reason, I wouldn't hesitate to recommend people to Rod.
Enjoy this interview!
Very Best Wishes,