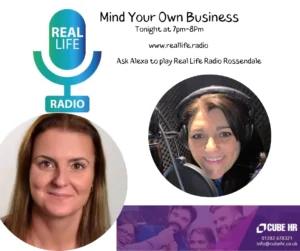 HR Done Right Really Does Matter
HR Matters, so HR done right is crucial now more than ever before!
The pandemic has seen many businesses impacted by the devastation of lockdown, so it was so refreshing to interview Lisa Sourbutts, from CUBE HR , on Real Life Radio. Her HR consultancy businesses is just three years old, and in that time, Lisa has experienced phenomenal success.  How inspiring, motivating and wonderful it is to hear about businesses doing well. It's awe inspiring to hear about business success anytime but right now it's more important than ever.
What Lisa Talks About
Lisa talks about how she thrived in business by accident.  It's humbling to hear how she seems surprised that she's achieved all that she has.  It's no surprise, though, because she is extremely focused, honest and always does business with integrity!  What more could you ask for?  It is amazing how it's often the people who deserve success the most that have no idea how great they are!
Other discussions, in this radio interview, include Lisa's background, the challenges she has faced in business and why CUBE is thriving.   There are open discussions about how her business has expanded and Lisa's philosophy in life, along with advice on dealing with HR matters.
Who is this business interview for?
This business interview is for anyone who loves listening to business success stories.  It's for people who want to know more about how a successful HR consultancy thrives.  If you know Lisa and you wan to know more about her business journey then this is for you.
To Summarise This Radio Interview
To summarise this radio interview,  it was an absolute pleasure to interview Lisa.  I've known Lisa since she set up CUBE HR, and to watch her and her business grow has been a pleasure to see.
To use three words to sum up this interview they are helpful, happy and heart-warming!
Enjoy!
To read the Better Networking blogs, listen to the Better Networking podcast,  listen to more radio interviews, or find out more about networking training, look no further, because it's all right here!
Very Best Wishes,