Published In Social Media Pulse: Tracy Heatley's Workflows To Avoid Sporadic Marketing Syndrome article features in international publication
Discover how to avoid Sporadic Marketing Syndrome with Tracy Heatley's proven workflows, featured in the January 2023 edition of Social Media Pulse. As a trusted marketing expert, Tracy's article has garnered widespread attention and acclaim,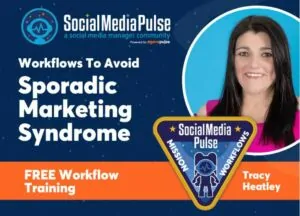 leading to a surge in her 'Be Better With Tracy Heatley' podcast downloads across the USA.
But That's Not All…
But that's not all. Tracy's insights caught the eye of Instagram expert and co-author of Instagram For Dummies and Instagram For Business, Corey Walker. Their connection led to a fascinating podcast episode.  The 'Talking Instagram For Business' episode is packed with actionable tips and hacks to supercharge your business on the platform.
Experience the powerful impact of effective marketing and PR, as you learn from Tracy's success story and optimise your own strategies for maximum results. Don't let Sporadic Marketing Syndrome hold you back – take control of your brand's growth today.
Find out More ….
Find out more about Tracy Heatley and her Better Strategy, Better Marketing, and Better Networking consultancy, mentoring and training services.