Elevate Your 60 Second Pitch Podcast by Tracy Heatley.
What Is A 60 Second Pitch?
A 60 second pitch is something that most experienced networkers will be familiar with.  It's something that many people dread. Some people may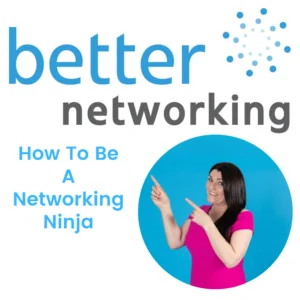 be confident with their 60 second delivery, but struggle with what to include.  Plus it's easy to get bored of repeating the same thing to different audiences.
Making your 60 second pitch count:
Whether you're part of a networking group or you're attending an open networking event, doing a 60 second pitch is very popular.  Most people who are networking know to expect this.  Some, however, do not.
Whether you're new to networking or you're already well on your way to being a networking ninja, I've got some practical and powerful tips to help you create that killer 60 second pitch that makes an impact and gets results.
It's interesting that we refer to this as a pitch, when networking isn't about selling, isn't it!
So, I think that's a good place to start.  Please don't think that because I'm referring to your 60 seconds as a pitch that you have to sell, because you don't.
Do Not Sell
This is my first rule with doing a 60 pitch.  Do NOT sell!!! Always remember, you're not selling to the people in the room.  You're educating them about your business, because they may be able to introduce you to your potential customers.
Remembering this will not only make sure that you don't appear brash and salesy with your delivery, it also takes an enormous amount of pressure off you.
It's Okay To Be Nervous
So many people jam up and nervous when it comes to doing a 60 seconds.  I remember being at my first networking meeting, back in 2003, and I was nervous.  Don't get me wrong, I've always been confident speaking in public and know one knew my business better than me.  However, as it got closer and closer to my turn, I remember overthinking what it was I wanted to say.
If you get nervous, I understand it.  I get it! I really do! I'd never tell you not to be nervous, because sometimes a little bit of nerves does you good.
Do remember, though, that everyone in that room wants to help you.  There's no one there who wants you to fail.
Whilst a little bit of nerves can be positive.  Your delivery does make a difference about how you're perceived by others, so it will be good to learn the skills to convey your message as you intended.
That said, I personally think that a little bit of vulnerability and nerves is okay when you're networking.
Don't Over Rehearse
Your 60 seconds doesn't have to be over rehearsed and polished.  It does, however, needs to be impactful, so that people warm to you, understand what you do and perhaps want to know a bit more.
During my Better Networking training workshops, we cover the vital aspects of building rapport and adapting communications to suit different types of people.  This means that when we're focusing on preparing new 60 second pitches, we have quite a unique approach.  However, even without that knowledge and understanding you can still formulate a number of different approaches to your 60 second delivery.
Whilst I don't think that reading from a script is appropriate, I do think it's important to plan your 60 second pitch.  Also have a few different approaches in your toolbox to suit the people you're networking with.
Know Your Customer
As you think back to episode three when we were focusing on knowing your customer.  If you've taken the time to do some of the things I suggested, like breaking down your target market and building your customer avatar, the results of that will be really useful here.
Remembering that you are educating other people, being able to talk about your ideal customers, with clarity, will be really useful, because it will direct the minds of the people you're networking with to think about people they who that they may be able to connect you with.
Furthermore, knowing and sharing your customers pain points is extremely useful.  Talking about the problems you solve for your customers will be really useful for the listeners.  Tell them the kind of situations or problems that you help with.  Perhaps what they can listen out for or look for that can help identify and opportunity for you. Again, they may be able to identify with what you're saying themselves or they may know someone else who can.  This could lead to direct business or to a referral.
Share Stories
Sharing stories is such a powerful way to communicate the nature of your business. In his book, The Psychology Of Persuasion, Robert Chaldini Cialdi, explains the important of sharing a story and how profound that can be. I'll cover this in more detail in a future episode.
In terms of networking, this links back to what I was just saying about customer pain points. Share different stories about things that have happened.  Perhaps about certain circumstances that your customers were experiencing before your product or service alleviated their problems.  This is particularly useful if you are a service provider.
As you're sharing your story, visual people will find it easy to picture the events, auditory will be listening as the events unfold and kinaesthetic people will feel they can relate to you and what you're saying. Also, if you don't like talking about your self or being the centre of attention there's no better way to deflect away from you than to be talking about someone else rather than yourself.
Benefits Not Features
This leads nicely on to the benefits of your product of service.   After all, whilst people are there at a networking event or meeting to get to know other people.  It's the benefits that you bring that will help eliminate your customer pain points, so it's important that you remember to communicate the value that you bring not just what you do.
Change Your Approach
Keep switching it up.  Keep changing your approach.  Drip feed different elements of your product or service over time, so that the people around you know of a number of ways to help you get referrals.   For one, you will soon get bored repeating the same thing over and over again.  Secondly, if the people around know what you're going to say they may subconsciously switch off and that's not what you want.
Whilst you need to keep changing tactics, consistency is key, so make sure that you continue to deliver your marketing message using a number of different techniques and approaches. Monitor responses too, so that you learn as you go.  I think also good to monitor people's responses to other 60 seconds, not just your own.   Study what engages people and learn from them.  Consistency is key, but so is being open to change and adapting your style to suit.
Networking tips in a nutshell
Build rapport with your audience
Remember, you are the value you bring, not what you do
State your intention and be specific with what you want to achieve
Positive energy is fundamental to how you're perceived
Keep it simple, to the point and don't drag it out
An outstanding strap line may be the tipping point of success
Tell a story that exemplifies how you've helped a current customer
Drip feed ideas on how members can create referrals
Remember you're only a few people away from the person you need
Plan your 60 second deliver.
More About Tracy Heatley
To find out more about Tracy Heatley, check out her marketing mentoring and business networking training.   Networking training is delivered face-to-face at North West venues, in-house for bespoke requests or online. Plus, Tracy has developed and on demand video course, so that you can learn more online in your own time.
If you would like to read any of Tracy's blogs or her guest blogs, there all right here too.  You've also got access to Tracy's Mind Your Own Business radio shows here too.
Enjoy this podcast!